Antique Theatre Hotel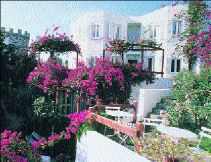 Once described by The New York Times as "the best small hotel in Turkey," the Antique Theatre Hotel offers an elegant, club-like atmosphere, quiet comfort, lovely views and service that is friendly and engaging.
The terraced hotel has been built into the side of a hill just below the ancient Halicarnassus theater. Every room has a view of the picturesque Castle of St. Peter and beyond, the crystal clear water of the Aegean Sea. Each level has its own small patio where flowers spill from terra cotta pots and greenery flourishes.
Interior design treatments create an exceptional mood, featuring spare wood furnishings, lots of marble, original etchings, hand-made bed coverings and antique mirrors and chairs. The suite, with its long couches, private terrace, fireplace and steepled sky- light, is one of the finest accommodations in the country.
The classical Turkish cuisine served at The Antique Theatre Restaurant has drawn rave reviews. Guests can also enjoy the Terrace Restaurant, Sunset Bar, a cafe and poolside bar with snacks.